Do's and Dont's with Liver Cirrhosis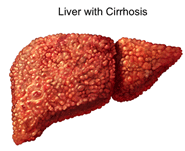 Liver Cirrhosis generally implies server damage to the liver that can be irreversible. However, the early cirrhosis conditions like in the stages of Child's A or stages of early Child's B can help the person to have a fairly active life for several years. It is possible, when the appropriate treatment is provided by the liver physician or liver specialist. In severe and advanced cirrhosis conditions like in Child's C, it is dictated that the liver has to be transplanted. And for the same to be done, an expert opinion is also to be sought out. When the patient follows the given Do's and Don'ts hereunder, there could be a fairly active life of liver to be continued for a longer period of time.
Do's
Grading the disease by initial detailed evaluation by a liver specialist and the corresponding appropriate therapy are essential.
During early Cirrhosis, liver function tests are needed to be done for every 1 to 3 months and following up regularly the liver specialist is needed. If it is advanced cirrhosis, tests and follow ups are done for every 1 to 4 weeks regularly. Liver physician suggests the exact interval of consultation and check up based on the severity and symptoms of the disease.
The presence of chronic liver diseases needs nutrition diet. In contrast to the popular belief, the liver can function actively and digestion would be normal until its very last or advances stages of the diseases, except when the person suffers from the severe jaundice. So, it is not necessary to avoid proteins and fatty food. If avoided, the deterioration of health will be more severe as it results in weight loss and malnutrition.
For Hepatitis B induced cirrhosis, if the HBV DNA test resulted to be positive, then Lamivudine treatment can be considered and it should be decided only after the consultation of the liver specialist.
Interferon-alpha and ribavirin could be given as treatment for early cirrhosis happened due to Hepatitis C. and it should be done only after the consultation of the liver specialist.
Don'ts
For alcohol-induced cirrhosis, alcohol must be completely avoided at any cost. It is also restricted in all the other forms, especially Hepatitis C.
Physical activity is to be avoided to be excessive, especially for virus caused and related cirrhosis.
It does not lead to the complete bed rest, as some reasonable degree of activity and mobility of the body are recommended.
The person should avoid contact sports because of the bleeding tendency and poor clothing in advanced cirrhosis stages.
Self-medication is to be avoided as it is very dangerous as the drugs can have prolonged effects and still harm the damaged liver, as the liver is suboptimal.
Dr Naimish Mehta has performed over 725 liver transplantation surgeries considered to be best liver transplant surgeon in India. Dr. Naimish Mehta is the Lead HPB and Liver Transplant Surgeon, in the Deptt of Surgical Gastroenterology & Liver Transplant Unit I, Sir Ganga Ram Hospital, New Delhi. He has 14 years of experience in the field of Hepato- Pancreatico-Biliary (HPB) Surgery performing complex operations on the Liver, Bile Ducts and Pancreas.