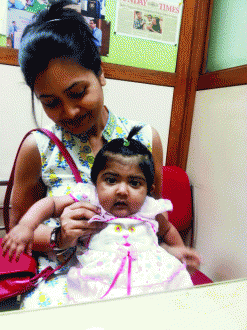 Liver Transplant Surgery of Nine Month Old Girl by Dr Naimish Mehta
A nine-month-old girl was given a fresh lease of life after a part of her mother's liver was transplanted in her body at a city hospital. Aradhita Banerjee, who turned one on Thursday, had undergone pediatric liver transplant at Sir Ganga Ram Hospital on March 7 as she was diagnosed with progressive liver failure after she suffered brain haemorrhage and was rendered disabled.
"This was one of the most challenging cases seen by me over the last 10 years. The liver transplant could have saved the life of the child but there was a high possibility that the physical disability might have persisted even after a successful liver transplant," said Dr Nishant Wadhwa, paediatric hepatologist and liver transplant physician at the hospital.
"On top of it, the liver transplant team lead by Dr Naimish Mehta and team of anaesthetists led by Dr Shashank Pandey faced a challenge of administering anaesthesia for the surgery and also ensuring that there was minimal adverse affect on the already compromised brain blood supply," he added. Aradhita was diagnosed with a fatal condition known as biliary atresia when she was three months old. As her liver function was steadily going downhill, she suffered from the inability to move her left hand and leg owing to a life threatening bleed in her brain.
While Aradhita's parents knew that a liver transplant would be life-saving for their child they also knew that her physical disability may benefit little from the procedure. With hope, the mother donated a part of her liver to Aradhita and on March 7, the team of doctors performed the 15-hour long surgery on the infant. During the surgery stitching of the minute vessels was a cumbersome process and it was essential that the child was removed from the ventilator support as soon as possible for a speedy recovery for the brain, Wadhwa explained.
Both the mother and the child were discharged from the hospital after 15 days of the surgery. Three months after successful liver transplant, the child who was constantly bed-ridden, not only sits but can also walk with support. The parents along with their daughter visited the hospital on Thursday to thank the team of doctors who operated upon her and also
celebrated her first birthday.
Liver Transplant Surgery of Nine Month Old Girl by Dr Naimish Mehta
Read more at
Source: http://www.dailypioneer.com/city/mother-gives-slice-of-her-own-liver-to-save-baby.html
http://www.business-standard.com/article/pti-stories/disabled-toddler-undergoes-life-saving-liver-transplant-114060501325_1.html
http://www.thestatesman.net/news/58303-liver-transplant-saves-infant.html?page=1